There are two ways to win passes for a Meet and Greet with All Time Low (and The Maine). Click here if you're not a VIP ticket holder.
This is a message from a Philippines music magazine, PULP Live World for VIP Ticket Holders.
We will be raffling Meet and Greet Passes for VIP Ticket Holders of All Time Low Live in Manila! Get a chance to meet All Time Low or The Maine. Simply buy a VIP Ticket at any SM Ticket outlets nationwide and stay tuned to our PULP Live World Facebook & Twitter everyday for the announcement of winners!

Starting March 2 we will be announcing 1 Meet & Greet Winner daily. Once your Seat Number is announced as winner, email royalty@pulpliveworld.com with a scanned copy or clear photo of your ticket along with your complete name, contact number and email address so that you may be directly instructed with the M&G procedure as the show date nears.

IMPORTANT:

Only VIP ticketholders can win a Meet & Greet slot
No Ticket, No Entry
Tickets will be collected upon entrance
Raffled slots are transferable ONLY to another VIP ticket holder.
Meet & Greet passes are Not for Sale
Exact Meet & Greet schedule will be posted in www.pulpliveworld.com & Facebook page

Call 727-4957 or 722-9622 for more information
All Time Low may be making movies alongside Meg Ryan, debuting albums in the Billboard Top 10, getting engaged and touring with the Smashing Pumpkins, but Kiwi social media cries to the pop-punk band weren't ignored.
The Baltimore outfit play Auckland's Westfest '15 at Mt Smart Stadium and Christchurch's Celebration Centre this week and say making the trip across the pond was a priority.
"Every time we came to Australia or anywhere close, we were getting blown up on social media," says vocalist/guitarist Alex Gaskarth. "Fans were like, 'Why are you neglecting New Zealand?'

"We couldn't until last time and when we finally did, the show was amazing and sold out quickly. So now it's a big priority for us to get there."

The group, whose catchy latest single Something's Gotta Give, is out now, have enjoyed a slow and steady rise to success since forming in school 12 years ago.

The guys were more interested in band practice than biology, and their parents tried to shift their focus to academics, but it soon become apparent the teens had a "legitimate shot" at a music career.

Covering Blink 182 songs and landing their first record deal in high school, they have gone on to be named Band of the Year by Alternative Press, play festivals headlined by Kiss and Eminem, be mentored by Fall Out Boy and write for Australian quintet 5 Seconds of Summer.

Gaskarth says All Time Low's sixth record, Future Hearts, out April, will continue the evolution of their last release, Don't Panic.

"We haven't pushed the envelope to the point where we're going to lose anyone, but there's enough of a new sound that we can capture fresh listeners."

Reflecting on the changes in the music industry since the group's early days, he says as well as social media keeping the band connected with global fans, making music has become easier and audiences are more open to multiple genres.

"I remember being a kid and you picked one genre and stuck to it and if you didn't you were a poser. Now, because of the internet and how much people are exposed to, they listen to lots of different music.

"It's a cool age where kids are listening to One Direction, All Time Low, Lady Gaga and a country artist."

As well as the new record and upcoming Europe and US tour, the band can also be seen in Meg Ryan comedy flick Fan Girl, in which they play the subject of a teenage girl's musical obsession.

The story was inspired by writer Gina O'Brien's daughter – an avid All Time Low fan.

"Being written into a movie is amazing, then getting to see how it all works was something new. As small of an acting part as it was, being around actual actors while having to hold my own in the scene was very intimidating," says Gaskarth.

Their own fan encounters have involved girls turning up to Gaskarth's house and sneaking on to their tour buses.

Having only seen their hotel and the venue last time they played New Zealand, newly engaged Gaskarth hopes to play tourist this week, and adds he's a huge follower of Lorde.
"I'm a big fan of her record and also the guy who produced it [Joel Little], who comes from the pop-punk world and is a really talented guy. It's cool to see them doing their thing."
All Time Low played New Zealand's annual music festival, Westfest yesterday, March 4th, 2015. You can see a video recap of the show below.
All Time Low performed their last Soundwave show in Sydney on March 1st, 2015. Their set was cut show due to the rain which ruined their gear. But, Alex appeared on stage one last time to sing Weightless without any instruments, he also covered Queen's iconic song, We Will Rock You. You can check out a video for the same below.
I've also added pictures from the show to the photo gallery. Check them out below.
All Time Low perform at Soundwave Festival, Sydney on 1st March, 2015
All Time Low are currently in New Zealand for their Christchurch show with The Wonder Years and Fall Out Boy. Coup De Main magazine posted a video of ATL, you can check it out below.
Leonard Nimroy, an iconic actor known for his role as Spock in the Star Trek series, passed away recently. Rian and Alex remember Spock in the video below.
All Time Low played a Soundwave show in Sydney on 1st March, 2015. Their set was cut short due to the rain which also ruined their gear. Below is a video recap of the show.
Media Centre
We have launched a Multimedia Centre where you can find all kinds of media related to All Time Low, like downloadable music, icons, wallpapers and lots more. If you have any suggestions, please let us know. Hope you like it!
All Time Low are going to be performing live in Manila on August 12, 2015 at the The Mall of Asia Arena in Pasay City along with The Maine.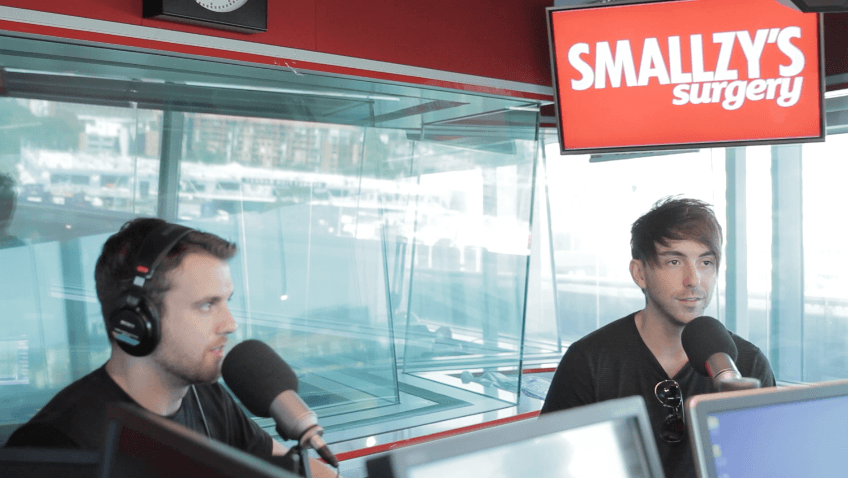 All Time Low are currently touring around the country as part of the Soundwave festival and dropped by Smallzy's Surgery to reveal how they ended up making music with 5 Seconds of Summer. Check out the video below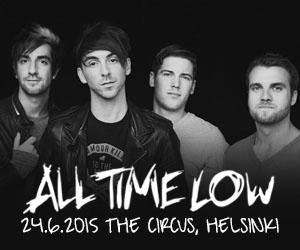 All Time Low are all set to play in Helsinki, Finland at The Circus on 24th June, 2015.
While in Australia, Rian and Alex were interviewed by Shazam Top 20 and were asked what colour they thought the dress (that broke the internet) is. Watch it by clicking the image below.
All Time Low played two Soundwave Sidewave shows, one in Melbourne and one in Adelaide. Check out a video recap for both the shows below.

All Time Low are currently in Australia to perform for various Soundwave shows. While in Melbourne, Alex went on stage at a McBusted concert to sing Get Over It, a song he co-wrote with the band. Check it out the performance below.