Click on image for full size.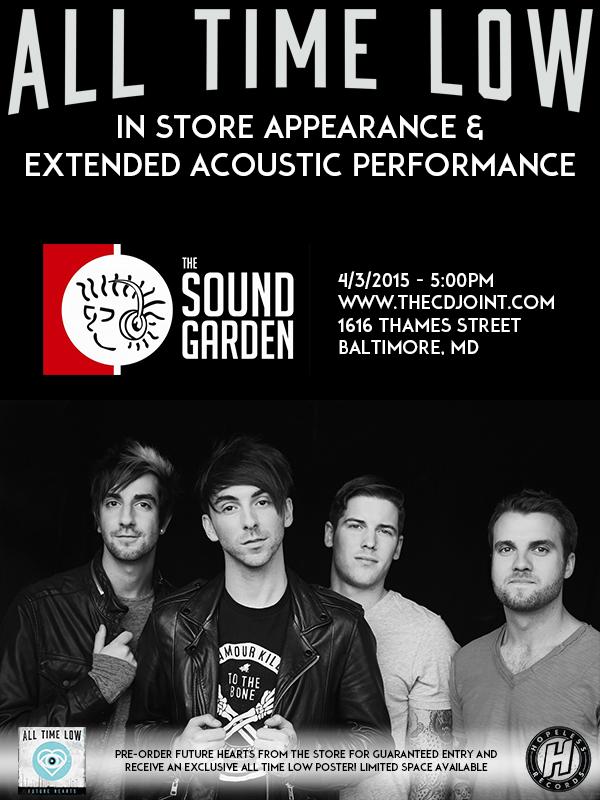 All Time Low will be doing an in-store appearance as well as an outdoor acoustic performance at The Sound Garden, Baltimore. Click here for more details.
All Time Low released a behind the scenes of video of recording Tidal Waves, which also features Mark Hoppus of blink-182. Click on the video below to play it.
All Time Low have released another song off of their album, Tidal Waves which features Mark Hoppus of blink-182.
Click on the image to buy the song.

All Time Low are going to be performing at the Pukkelpop Festival in Belgium on 22nd of August. Tickets go on sale on April 15th.


All Time Low did some signing and acoustic sets in Newcastle, Middlesbrough, Birmingham and Cardiff, UK respectively, on 23rd and 24th March. You can check out pictures from the same below.
All Time Low played an intimate stripped down acoustic show on Sunday (March 22) for the UK record store, Banquet Records.
You can watch fan-shot videos of the band performing "Kids In The Dark" and "Something's Gotta Give" from the show below.
All Time Low played at the Wembley Arena in London on 20th March. Below is a recap video of the show.
Below is the setlist that All Time Low played.
A Love Like War
Lost in Stereo
Six Feet Under the Stars
Heroes
Stella
Somewhere in Neverland
The Irony of Choking on a Lifesaver
Weightless
Remembering Sunday (with Cassadee Pope)
Therapy
Kids in the Dark
Guts
Outlines (with Josh Franceschi)
Damned If I Do Ya (Damned If I Don't)
Forget About It
Backseat Serenade
Time-Bomb
Something's Gotta Give
The Reckless and the Brave
Jasey Rae
Dear Maria, Count Me In
I've also added more pictures from show. Check them out below.
All Time Low perform in Wembley Arena, London, UK on 20th March, 2015
Click on the picture to listen.
What are you thoughts?
All Time Low have announced a Reading and Leeds warm-up show.
The Baltimore mob will be joined by Wrexham pop-punks Neck Deep at Edinburgh Corn Exchange on August 25, before both bands play this year's Reading and Leeds Festivals.
Click here to pick up your tickets!
All Time Low were in a HMV store in Manchester, UK on April 18th, 2015 for a Future Hearts signing. You can check out pictures from the signing below.
Signing at HMV in Manchester, UK on 18th March, 2015
All Time Low performed in Dublin, Ireland as part of the Future Hearts Europe Tour on 17th March, 2015. Below are pictures of the concert.
All Time Low perform in Dublin, Ireland on 17th March, 2015